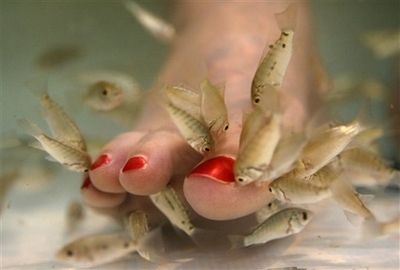 Today I've paid a visit to Fisho Spa to have a fish pedicure, I've been planning to try it ever since I first heard of it. It was a fun experience! It did not hurt or tickle at all, you'll just feel the fish tapping on your skin. I dipped my feet and hands into the water for the fish, I even caught fish in my hands and tried to lift it up ;p
I heard that it would make your feet feel very soft, I'm not really sure about that. You would feel a diference but not that much of a difference. I would recommend to have a normal pedicure first before using the fish pedicure.
Fisho Spa is located in Kuwait in Aqua Park, they open from 8:00pm till 12:00am in Ramadan. You can show up at the spa without reservation. Their phone number is 96634746
The prices are 7KD for 30 minutes or 10KD for 45 minutes. (they have a 50% discount for Ramadan)
Your husband, brothers and father can join too!
Check out their
Facebook
page.
Personally, I loved it!